Student eLearning Orientation, Tips & Tutorials

Narrated eLearning Student Orientation
Both new and experienced eLearning students are encouraged to watch the revised 11-minute student tutorial.
IMPORTANT NOTE: As of the Fall 2014, the name "eLearning" will replace the older name "CyberCampus". You'll likely hear both terms used interchangeably for a while. Also, many instructors refer to the eLearning platform by the name of technology it uses, that technology is called "Moodle." In the Golden Gate University environment all three terms ("eLearning", "CyberCampus" and "Moodle") mean the same thing: Your GGU online class space.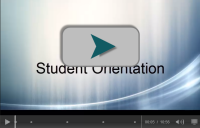 More eLearning Student Tips and Tutorials
FEATURED Tip: 
HOW TO UPDATE YOUR PROFILE PHOTO
Go to your Profile by selecting your name in the course - for example, clicking on your name in the upper right corner where the Login/Logout is.

Click on "Edit Profile" on the left.

Scroll down to the "User picture" link at the bottom and click on the gray arrow to expand that section.

In the "New picture" area you can either:

choose to browse your desktop for the photo that you'd like by clicking on this icon 
or, you can choose to drag your photo from your desktop onto the area designated by a dotted gray box.
Once you've selected your photo, scroll down all the way to the bottom of the page and select the button "Update Profile."

If you don't see your photo appear right away don't worry - simply refresh your browser and you should see it.

Problems with uploading your Profile photo? If so, please contact elearninghelp@ggu.edu.

Student Resources:

 

Find Writing or Math Tutoring: Visit Student Services' website to locate an online or on-site tutor

Proctored Exams
Last modified: Thursday, March 5, 2015, 3:27 PM