Student eLearning Orientation, Tips & Tutorials

Narrated eLearning Student Orientation
Both new and experienced eLearning students are encouraged to watch the revised 11-minute student tutorial.
IMPORTANT NOTE: Many instructors refer to the eLearning platform by the name of technology it uses, that technology is called "Moodle." Some instructors also use eLearning's old name "CyberCampus."
"eLearning", "CyberCampus" and "Moodle" all mean the same thing: Your GGU online class space.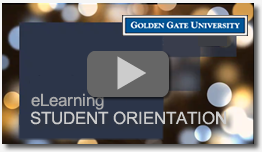 Click to view the eLearning student orientation.
The orientation contains a table of contents so you can quickly get to the info you need right away. To toggle the Table of Contents off and see the full slide  click on the Table of Content icon in the lower right corner.

Last modified: Friday, April 12, 2019, 8:58 AM